Two entries in one day, woah. But I thought it was time. I've been writing and posting so much fanfiction in the last 2 months that it was really time to start posting photoshoots again :)

The latest shoot that I've gotten the photos back for is actually not a cosplay, but a fashion shoot, with lolita-inspired outfits designed and made by the lovely
mis_v (thanks for asking me to be your model darling! It was an honor to wear your gorgeous collection in front of the camera). This is actually my first time modelling someone else's work, instead of my own ... it's a good learning experience and actually has a different feel from modelling the cosplays I've made myself.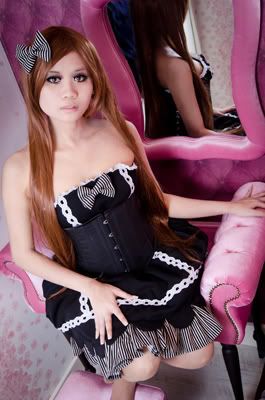 Thank you
rayfy_chan for your lovely photography!


The only three photos I'll post here because unfortunately I look derpy in all the other shots. Haha.


Brisnova Aftermath

As I mentioned a few entries ago, I'd decided to go to Brisnova, which ended up being an amazingly fun trip. My primary reason for going was to see Colin Morgan and Billy Boyd, both of whom were incredibly sweet and so, so nice. Got both their autographs! So no regrets. Apart from them the convention itself was mostly kind of boring (sorry lol), but I got to spend time with awesome people, so that made up for it.

Highlights of the Brisnova experience:

- Staying at
j_plash's remarkable mansion! (Thank you sweetheart for being such a wonderful host and letting me stay under your roof while I was there). And thanks for letting us watch the latest Merlin downstairs too. It was fun giggling with everyone about every piece of subtext in the most hilarious episode possible =P IN A LAND OF MYTH AND A TIME OF MAGICCC

- Sleeping in our downstairs 'Asian hub' with
rurumi,
moonblader,
amenokitarou,
psycho_kyugurl, and
sansele, telling ghost stories at night or laughing about Dreamy Creamy Steamy, or doing hilarious life quizzes while drinking tea in the ungodly hours of the night. I love you all and I feel so much closer with all of you after this. I wouldn't have traded this for the world.

- Our music jam sessions! Thanks Will for letting me be a part of your compostional performance. And
k_chan009 &
princealy for making Titanic hilariously epic (I'll never look at it the same way again). And all three of you, along with Christie, J and
zimiel, for our fun LotR singalongs!

- Meeting new people. Gods, I met so many new people on this trip, made so many new friends, including
rallamajoop,
ryokophoenix, Blair, Chantelle and many others. And along with that, I got to reunite with old ones that I basically never see - namely
sinnatious, who hung around with me while I was bored and had nothing to do, and kept me sane! Thanks for that hun, I really appreciated your company! ♥ I just hope I didn't bore you while dragging you around everywhere.

- Our Game of Thrones car, in which it became tradition to fangirl about GoT and play/sing the theme song whenever we climbed in. Deng deng deng deng! After this trip I'm doomed to have the theme song permanently stuck in my head.

- The trip there and back with Christie and
aegwynn_aran ... especially the train trip after our flight home, which involved all of us running from one train platform to another as the train pulled in, yelling "FAAAAAAAAARK!" XD

- And general funtiems like hunting for kue lapis with K, Aly, Jill and Kyu. XD

I was so happy to be able to go on a convention trip that wasn't about the cosplay - I did cosplay to the con, but it certainly wasn't the focus of the con or the trip as a whole and it was great to just be able to hang out with my friends. And, yes, meet my favorite TV/film stars. It was my first ever trip to Brisbane, but considering how much I enjoyed it, it probably won't be my last.

And that ends the con season for the year. Thanks to everyone for making it so amazing and memorable!

~ Harmony