BUT BEFORE I TALK ABOUT BRISNOVA, BACKLOG OF COSPLAYS FIRST.

This is back from the SMASH! period lol. Was invited do Morinaga from Koisuru Boukun (a very cute BL series which you should all check out if you haven't already, btw) as well as given the opportunity to reshoot my default Meiko (which I wanted to redo) by the lovely
zimiel! Just showing one shot from each since the KB shoot was short and you've generally seen my Vocaloid costume before, even if it's revamped.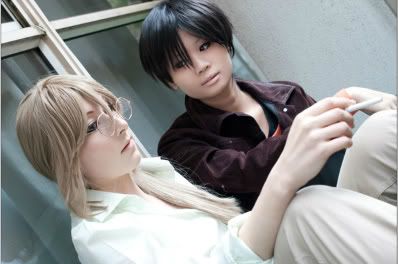 Thanks
j_plash for the photo!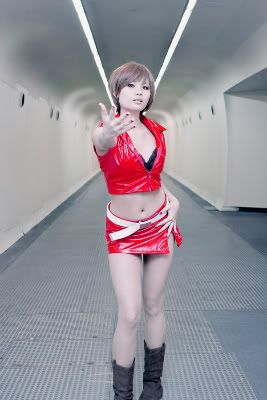 Thanks Bubby for the photo!



And then, an obligatory Sydney Animania post.

Copied from deviantART so feel free to skip if you've seen this before *___*

On Saturday I cosplayed solo as Seth Nightroad from Trinity Blood, in her manga empress outfit.



Thanks xxnatto for the lovely photo!


Sorry that this photo doesn't really show off the lovely gold trim I used or the detailing work I did for this costume! It all ended up quite ~*~sparkly~*~ lmaooo

This costume was meant to have been worn at last year's Animania! I had no plans to cosplay on Saturday Animania this year, or even come. But one month ago I saw the pile of unfinished Seth in the corner of my room, which had been gathering dust since I abandoned it last year. Out of a strange motivation I decided to attempt to finish it ... and thank goodness it's done, one year later ><

Some interesting facts:

- This I told to everyone who asked, but this costume was one month's worth of sewing about 9 hours a day every day ... I'd come home from 7-8 hours of work and proceed to do 9 hours of sewing until I went to sleep. Every day for a month. I WANTED TO VOMIT BLOOD. If we compressed the sewing time I probably spent about 2 months on it (I started making this costume last year for the TB group that didn't end up happening).

- Budget for this costume was around $500-$600ish - I'm a total cheapass (everyone who knows me knows this) and I'm fairly satisfied with that figure because I completely expected to spend double that ... it's Trinity Blood after all lol. I'm happy I got it down heaps less than I expected, even if it stands as my second-most expensive costume.

- My Seth wig is my Genkishi wig, that I styled xP and the dark green fabric I used for the costume is the leftover dark green fabric I used for Syaoran from CCS haha.

Progress pics for my Seth costume are now up on my Facebook for friends to see.


On Sunday, I brought out my Nico Robin powers once again for
minhhhhh's epic One Piece group (Shabondy Arc version):



Thanks Bevan He for the lovely photo! Our Usopp & Zoro were elsewhere though.


I cut my real hair for this cosplay lol. The day before, my hair was down to my bum! (See what I mean about being a total cheapass? I cbf to spend money on another wig for Robin lol). The costume itself was a really simple alteration job, so thankfully I finished sewing it all in about a day. And I already had the hat from when I cosplayed Robin's default outfit a few years ago.

It was an awesome team and despite us being spread across 3 different states and only starting to practice our skit the morning of the con, we still somehow managed to get runners-up for group performance. I'm very proud of them all! I'll make a picspam post for the photos from our shoot soon.

And btw - I HAVE NOT COSPLAYED VOCALOID TO A SINGLE CON THIS YEAR. You heard right. This coming from the person who cosplayed Vocaloid to basically every con last year XD! This is super-late, but I cosplayed Heather from Silent Hill 3 to Sydney Supanova (which I'm doing a proper photoshoot for soon with a full SH group, which is very exciting), followed by Cyrus (the male SMASH! Mascot, since I was working) to SMASH!.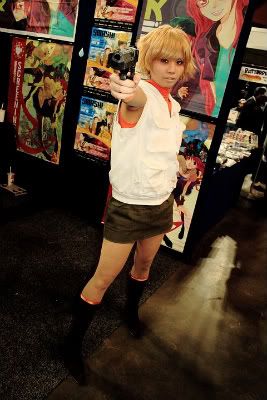 At Sydnova this year, guarding the SMASH! stall lol. Thanks Richie for the photo!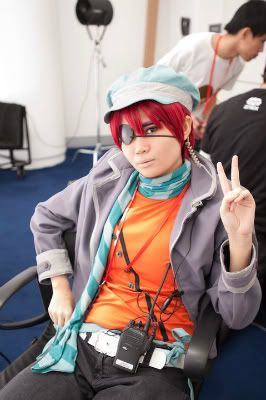 At SMASH!, cosplaying Cyrus since I was basically at work. Thanks Icie for the photo!




OKAY now I'll talk about Brisnova.

I wasn't even planning on going, but now I've decided to go because of the rather stellar guest list lol. I know a few people on my flist are going ... what are you cosplaying? So I can stalk you. If you're flying in, what days/when are you flying in - and out? :D Let me know, we should have dinner together and stuff.

On the Saturday I'll be doing S2 Mimi from Digimon since I already have it ready, and on the Sunday I plan on just rewearing my Fatal Frame outfit since it hasn't debuted at a con yet.



My primary objective is to meet Colin Morgan and Billy Boyd anyway and I'm not too concerned about cosplay, so I just decided on these since they won't take up much space in my suitcase and that means I don't have to pay for extra baggage on the plane :P

Will be flying in with
moonblader and
aegwynn_aran on Friday afternoon, and flying back out on Monday afternoon. Yay! It'll be a new experience too since I've never actually been to Brisbane before. (This makes me glad I decided not to go to Manifest this year - I'd rather not fly interstate for cons twice in a year =P *is poor*).

So, will I be seeing you?? :D


~ Harmony