Previous BL cosplays: Gakuen Heaven

Another double cosplay photoshoot picspam in one entry, but this time it isn't Vocaloid - it's BL fandoms! Considering what a massive BL fanatic I am (most of you know this already), it's a shame that I don't do more BL cosplay - or crossplay in general, really.

We shot both of these on Boxing Day, so it was our last cosplays of the year (along with a Starry Sky shoot that I helped take photos for). These are very special because I adore both of these fandoms; OtRFK in particular has a special place in my heart as it's been one of my most loved BL series and one of my dream cosplays pretty much ever since the moment I read it. So it was great to get some fanservice goin'.



Thanks to Bubby for the above two photographs!
Antique Bakery:
lunarfish came over to my house and we literally had a sewing session for the day followed by dinner, so we got the vests pretty much done in that one day XD it took me another half-day to do the buttons and the apron lol. We couldn't believe how fast we got it done, we kept saying it was surreal how fast the process was from deciding to cosplay AB to doing the shoot (probably less than 2 months).

Only The Ring Finger Knows: I made both our ties (from the same fabric I used to make Syaoran from CCS since I had so much left over LOL) and bought two cheap plain silver bands which
moonblader helped add the gold line on, when she came over the same time as AB sewing session. The shirt was my old school shirt that I modified haha, so it was more or less quite simple. (Fun little story: I bought the gold trim for the ties & the silver rings from the same hobby shop. They were so cheap. When I went back about a month later, the store had closed down permanently! D: so we were very lucky).




ANTIQUE BAKERY PHOTOSHOOT
(Based on the Antique Bakery costume designs)

Harmony/myself as Chikage |
lunarfish as Tachibana |
rayfy_chan as Eiji |
moonblader as Ono
Photography by Bubby (thank you!)

I really don't know why we have more crack shots than serious shots for this photoshoot lmao. But the manga series is so light-hearted, I guess it's pretty fitting.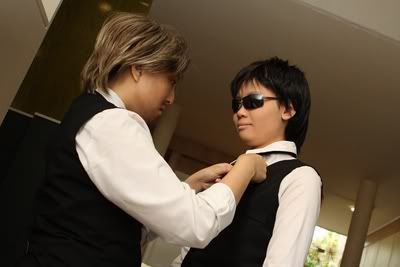 The husband and wife shot xD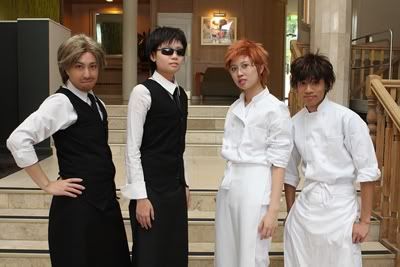 The AB staff who make it what it is <3



"CHIKAGE-SAAAAAAN ~ ♥"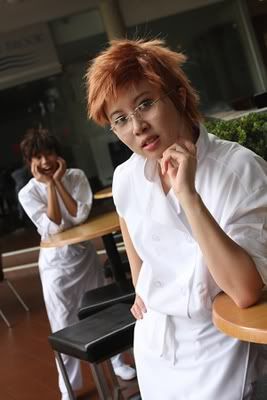 "SENSEEEIIIIIII ~ ♥"



"WAKAAAAAAA ~ ♥"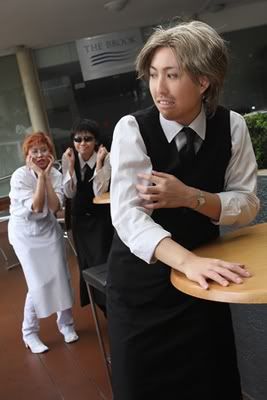 (There are no words.)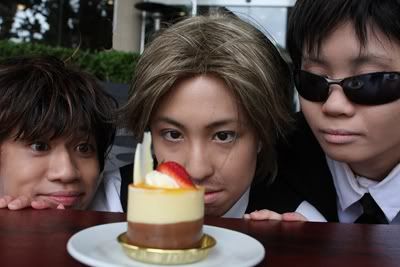 Trying to emulate the style of the AB cover XD
I laughed for like five minutes at
rayfy_chan's face, so moe rofl



The manly stubble-sama.



On a date ♥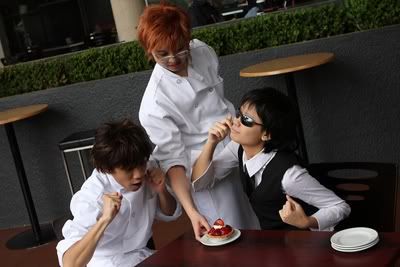 Taste-testing. Eiji is obviously most excited.



Ono gets a hand (or many hands) licking his cream.



Tachibana can't beat his bodyguard at arm-wrestling ...



... And Chikage has no chance of winning against the former pro boxing champion.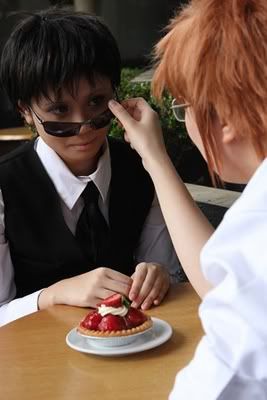 Instant love



OH SNAP



Tachibana dares not be hand-fed.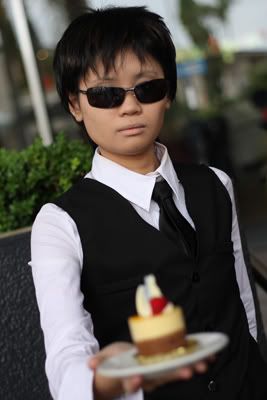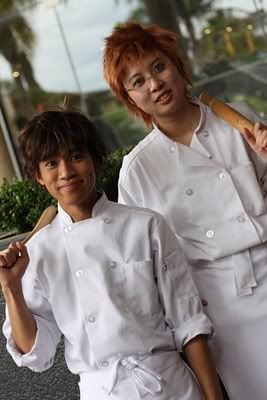 The fun-lovin' pastry chefs ...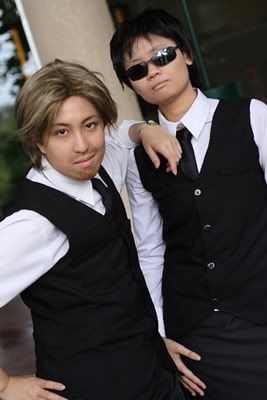 And the manry waiters.



Chikage: one of the most shy, gentle semes you'll ever see xD



A dysfunctional lesson in baking.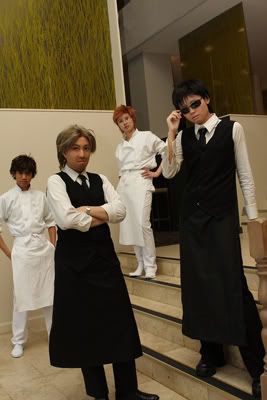 Welcome to Antique - the bakery is now open. <3


ONLY THE RING FINGER KNOWS PHOTOSHOOT
(Based on the OtRFK costume designs)

We changed after the AB shoot & reapplied our makeup, but it was very hot that day so excuse our melting faces. Still think it went well though, we got some beautiful shots - I pretty much b'awwed when I saw how they turned out (and every time I looked at them really) ♥

Harmony/myself as Fujii Wataru |
moonblader as Kazuki Yuichi
Photography by Bubby &
lunarfish (thank you!).



The daydreamy Wataru ...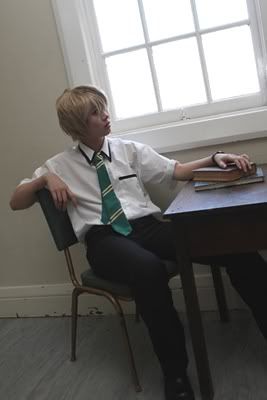 ... And the patient Yuichi.



Based off the present scene in the manga/novels. XD



(Lol I look so depressed, but it fits. XD)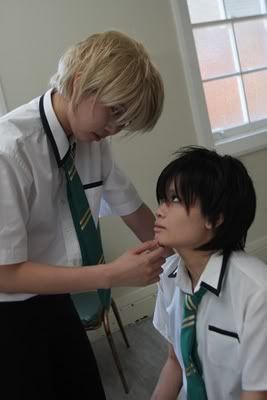 The interrogation scene.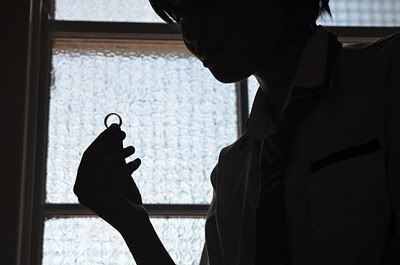 Wataru finding his ring back ♥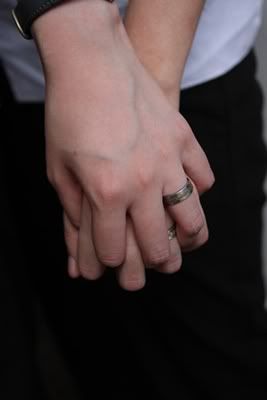 It's all downhill from then on.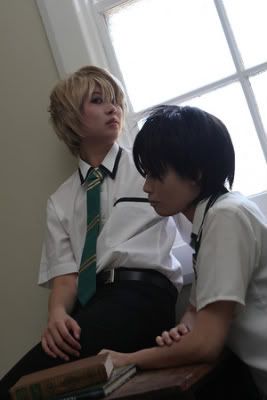 Personal tutor 8D



In-school flirting ...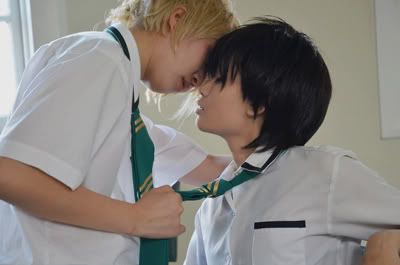 ... and a whole lot more.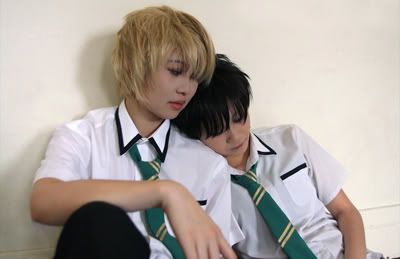 Why yes, this is what the student council room is made for.



This seriously has to be one of the most beautiful shots in this set. AFSFKL;SHKS DYING FOREVER



Rabu-rabu ~



In the end, only our ring fingers know the truth. ♥


BONUS - OUTTAKES



The war of the baking tools. (Ono's hobby is playing with long stiff things).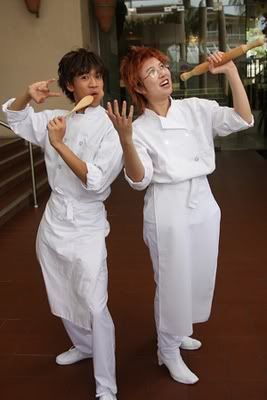 Antique Bakery, Macross style ~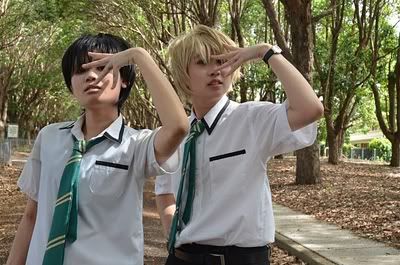 GEASSU POWAHHHH



I~za~yaaaaaaaaaa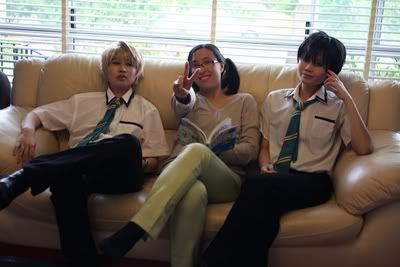 Proud otaku yaoi fangirl
lunarfish, who did a great job photographing our OtRFK!



I definitely want to do more BL series in the near future, hopefully during this year, but we'll have to see as I haven't actually got any specifically planned yet 8D;; orz but in the meantime, there will be more Vocaloid coming up in the next few weeks so hope you'll stay tuned!

~ Harmony