I've been marathoning i11 (almost up to most recent ep), since I love sports animanga & almost everyone on Twitter has something positive to say about it. And, damn it guys. Now I really want to cosplay it, what have you all done to me OTL

In other news, time to review this year's cosplay! :D Most recent cosplay includes both outfits from the absolutely beautiful Palette PV, cosplayed at
gn004nadleeh
itakoaya
minami_373's joint Vocaloid birthday party (thanks for inviting me guys <3):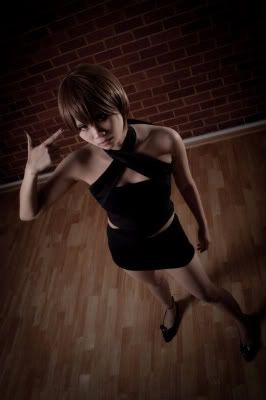 Thanks Icie for the gorgeous photography!



Harmony: 2010 Cosplay In Review

It's a shame Silver didn't cosplay much, but by gods I did heaps more costumes than I intended to this year. Most of it was Meiko LMAO (I cosplayed her to every con I attended this year except for Supanova for which I was asked to judge at the last minute and thus didn't have time to whip up a proper costume). I think my makeup skills have grown better over the course of this year and my sewing has also gotten a little faster now, although it's still slower than everybody else LOL.

2009 ended with Prince of Tennis: Rikkai group shoot, and then 2010 began with some well-loved Vocaloid! List below in sort-of-but-not-really order, especially since some of these are just proper shoots of con costumes from last year and the year before.



Left to right
1st row: Meiko, default | Meiko, swimsuit ver. | Meiko, Sandplay ver. | Meiko, Synchronicity ver. (Vocaloid)
2nd row: Ishizu (Yu-Gi-Oh!) | Heather (Silent Hill 3) | Light | Matt (Death Note)
3rd row: Neliel (Bleach) | Meiko, Tsugai Kogarashi ver. | Meiko, Alice Human Sacrifice ver. | Meiko, Spice ver. (Vocaloid)
4th row: Meiko, Magnet ver. | Meiko, Conchita ver. | Meiko, Palette (strap dress) ver. | Meiko, Palette (suit) ver. (Vocaloid)
5th row: Chikage (Antique Bakery) | Wataru (Only The Ring Finger Knows)

(Not included: a schoolgirl version of Meiko with
mis_v which I didn't really consider a proper cosplay since it was so ghetto XD).


2011 will bring even more Vocaloid, Prince of Tennis, BL and many other plans which will hopefully become a reality :D

Hope you guys have had a good cosplay year & a good year in general!! Happy holidays <3

~ Harmony