Yet another SMASH aftermath post XDD but SMASH this year was awesome, as always! Best con of the year. ♥ It was so good to see everyone and their sexy, sexy cosplays; love you all! Silver made a lot of really cute stuff to sell at her stall in the Artist Alley this year (I'm in love with her Elizabeth LAWL) and seemed to get some pretty good sales, which was awesome! Be sure to check out her selling post on dA for leftovers if you're interested in buying :3

On the Saturday I finally got to cosplay Sanada Genichirou from PoT, who I've wanted to do ever since I got into the fandom. Thanks for inviting me to cosplay with you guys <3 Our only regret is that our Yukimura,
jyo_y (we love you!), suddenly couldn't come to SMASH at the last minute D: but otherwise we had a full team:




Thank you Gino for this wonderful photograph :D



I AM NOT LINKING ANYONE TO OUR SKIT IN WHICH I "DANCED" RETARDEDLY. I forbid anyone to see it. (Btw
dame_batsie: we took a SanadaxKirihara angsty shot just for you, I'm waiting to get it off our Renji ♥)

On this day Silver cosplayed Ashford uniform Shirley (with Meeko as C.C.) from Code Geass.



Thanks to Bubby for taking this photo!



On the Sunday the two of them swapped wigs and re-used their cosplays from the day before, and were joined by myself (cosplaying as Kallen),
ravient (as Rolo), Suspense (as Lelouch) and
rayfy (as Suzaku):



Thanks Icie for these awesome shots!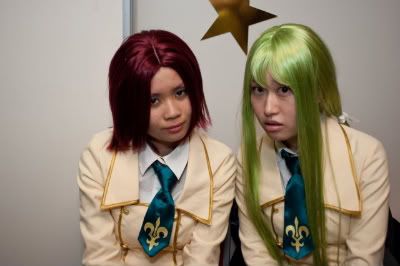 Obligatory
silverharmony shot. ♥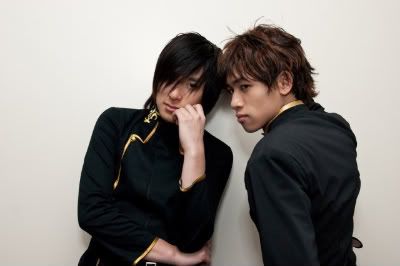 Asdfsghks thank you so much to our two very brave (real) guys for giving all the girls SuzaLulu fanservice :3



Manifest is the convention coming up next - in less than two weeks, at that! - which means our Bakuman group, KHR Millefiore group and Bleach Espada group are coming up. Stay tuned for photos! ;D

Now I have to go back to sewing my costume for the Espada cosplay OTL;;

~ Harmony :D