THANK YOU SOOOO MUCH EVERYONE WHO CAME TO THE OUTING ON SATURDAY!!


Epic cosplay worn by epic people <333 Thank you for the wonderful presents too, they made me so happy :'( You really didn't have to though I lol at the fact that Straw and co. have the same sense of humor as I do like with the Harmony candle we gave people xDDD I'm elated you all came. ♥

So here's the second of my ES21 costumes! Our Bando Spiders (school uniform version) cosplay was a-go: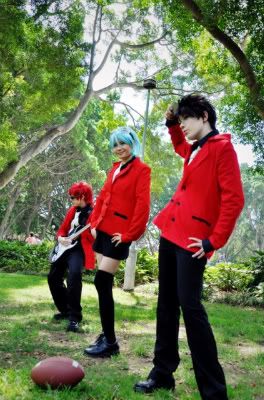 Thanks
itakoaya for taking this photo!



I have to give a mound of thanks to Ray and Silver for taking many photos on my behalf. And they decided to cosplay Hong Long and Wang Liu Mei as a surprise for me (because I'm sort of intrigued by the pairing lol xDDD) - they didn't tell anyone they were doing it! It was awesome. Also much appreciation to Meeko who didn't have time to cosplay anything but whipped up an EPIC Monta anyway. You are amazing.

Here's us and Ravi taking a break :D



G00, ES21 and VK crossover! Nice rest on a bench in a shady spot. 8D
SO ANYWAY, THE BANDO SPIDERS COSPLAY

Bando Spiders Trio, School Uniform Version
Myself as Julie | Madara as Akaba | Nadleeh as Koutarou

Guest-starring Meeko as Monta.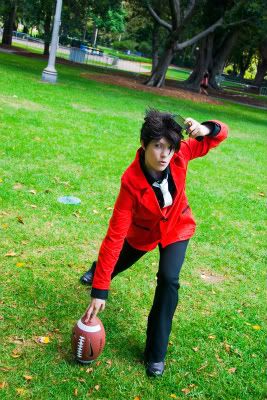 Smexy smexy Koutarou is gettin' ready for the kick.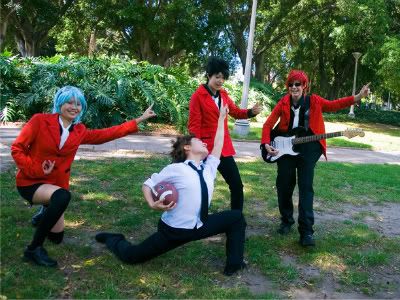 Monta may not be part of the Spiders, but his Catch Max still beats all. 8D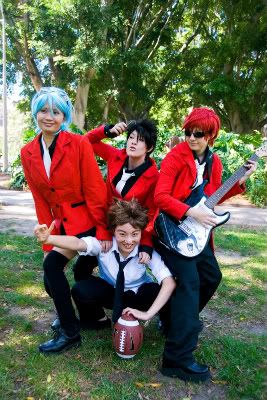 Sitting on Monta :D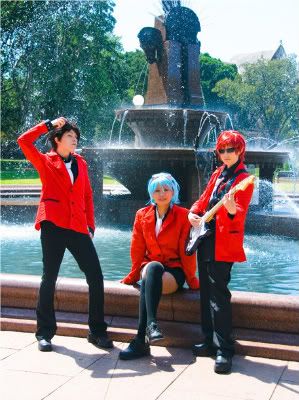 Monta jacking our photo. :P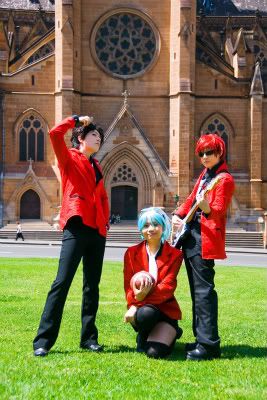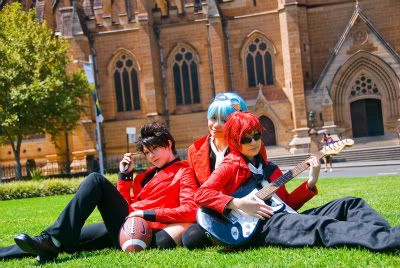 Love this photo ~ so sweet <3



Akaba chucking a Koutarou.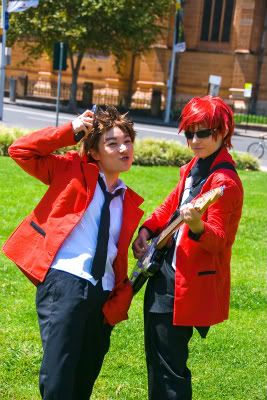 MONTA ALSO CHUCKING A KOUTAROU. XD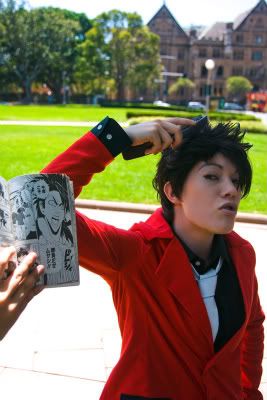 ... Koutarou chucking a Koutarou. With canon proof. 8D



This shot was taken directly out of one of the frames of the manga.
Julie hitting Koutarou with Akaba's guitar out of frustration xDD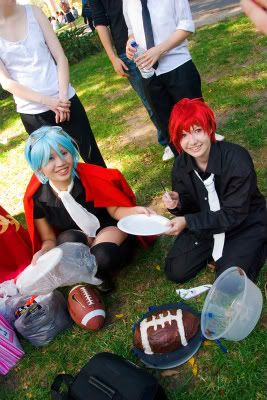 Giving out the FOOTBALL-SHAPED CAKE (which we made ourselves, aw yeah 8D) to the party-goers.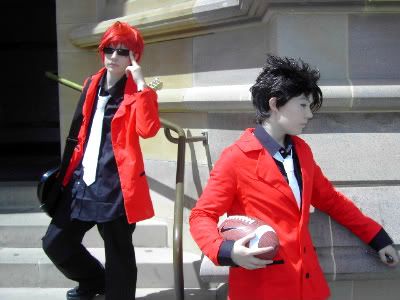 Another shot taken directly out of the manga. Angsty Akaba x Koutarou :P



But they are both always smexy either way.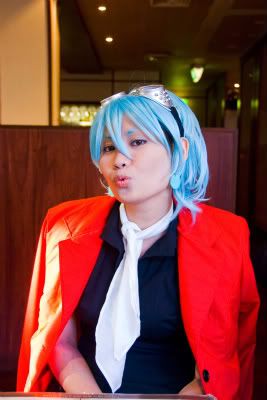 Later at dinner (*chu*)



And finally, the two birthday people. Akaba trying to be a womanizer xDDDD


And the day is never complete without a bunch of crazy purikura 8D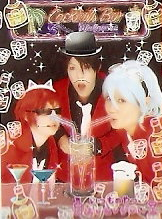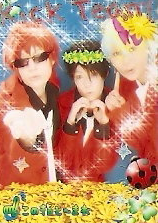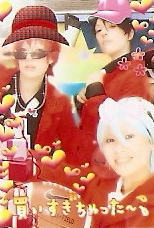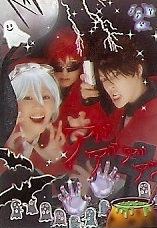 Took me a few days to make that red blazer so pathetic, because I'm a freaking perfectionist and that makes me slow at sewing. I was originally gonna cheat by altering a blazer but the red didn't match T__T regardless, I'm very happy with this cosplay, and so thankful to my gorgeous Akaba and Koutarou <333

EDIT: Perhaps most of you who are visiting back to this page notice that many of the photos are missing. That's because I removed every photo that was taken by me - I had a pretty crappy camera and it didn't compare to the rest of the beautiful shots here that were taken by
rayfy. If you want to see the other (crappy) photos again, let me know. Thanks for your patience!

Again, thank you so much everyone for making this an epic day! ILU all so much. My birthday isn't for another two weeks or so, but this still made for an awesome party. ♥

Last but not least, zomg pretty HiruSena art from Ita! And Kaiya gave me some pretty HiruSena too. <3 Not to mention I also got pwnsome G00, One Piece, more ES21 stuff, and heaps more pretty/yummy things *__* I feel so undeserving of them. Thank you!!

~ Harmony