This has been one of the most hectic weekends of my life. Who knew that 2 days of cosplay could be so exhausting, even though I've had one costume finished 2 weeks ago and the other costume finished more than a month ago XD
It's been almost a year since I cosplayed to a convention (I've mostly been doing shoots, and I didn't cosplay to Mini or did a proper cosplay for 'Nova since I only went to judge). So I'd forgotten how busy it gets & how much we had to do lol. But I had a great time, and I got to cosplay yet another 2
Vocaloid
outfits so I'm in a very good mood!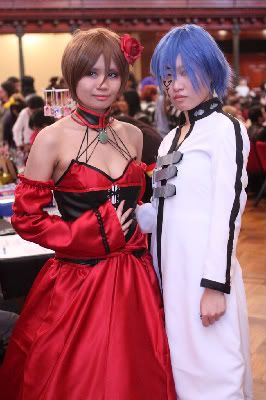 Obligatory
silverharmony photo - us at the con :)
Harmony/myself as Conchita!Meiko (Vocaloid) | Silver as Gerard (Fairy Tail)
Thanks Alan/Bubby for this photo.
(
Collapse
)
(
Collapse
)
(
Collapse
)
(
Collapse
)
Con season has just started and Manifest con (or yet another
Vocaloid
con for me since I'm doing Meiko again both days XD) is coming up in 2 weeks ... I've decided to rewear Tsugai Kogarashi for the first day as a solo costume, and do Alice Human Sacrifice for the second day with our lovely group ♥ originally I was considering rewearing Conchita but it's going to be very hard to carry interstate so in the end I decided against it.
And then it's Animania with our epic
Trinity Blood
group. I've been making some progress on Seth, but more on that later :D
*Goes to sleep forever lol*
~ Harmony