After the huuuuge delay, we finally managed to have the
Gakuen Heaven
photoshoot that we'd been planning for ages OTL. Unfortunately we lost our Niwa (to jetlag) and our Shunsuke (to a stomachache) on that day, but the two of us and whoever else is willing to come will shoot separately with them later on so they won't miss out on the lovin' <3
BOYBAND POSE GO!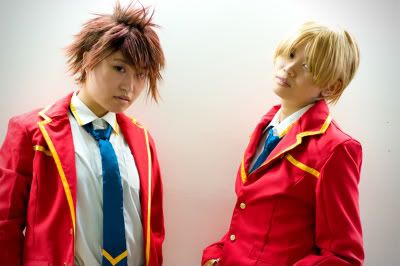 Coz ghey, pretty Private School boys always deserve boyband poses XD
Thanks
rayfy for the stunning photography.
I think this must seriously be one of the best (if not the best) photoshoots I've ever been a part of. It's not only because everyone was so freaking hot =P but I've had the most fun on this day than I've had in a while. Love you guys!
(
Collapse
)
Thank you once again everyone who was a part of this, who came on time and co-operated so well with each other, staying so smexy the whole day and for making this one of the most enjoyable photoshoots ever.
~ Harmony :'D
PS:
Also, have
a photoshop edit
by my lovely Keita that
One Piece
fans will appreciate :P